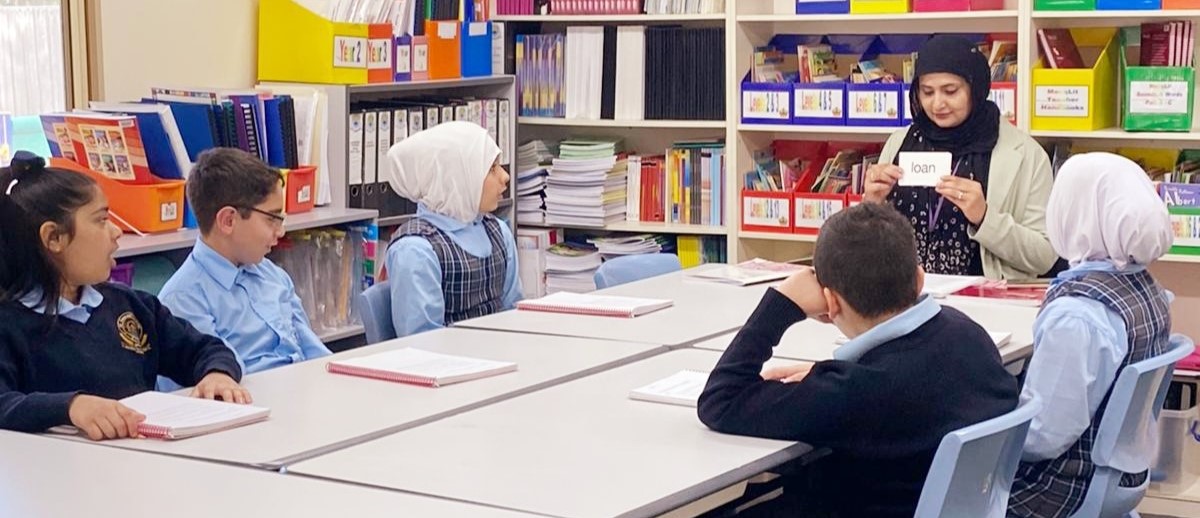 Faculty Vision And Rationale
The Learning Support Team at Al Amanah College aims to facilitate processes and strategies to cater for the needs of all students within the school. Such needs could include physical, social, emotional, behavioural and academic concerns.
The team is a decision making body that's purpose is to maximise the use of school resources and personnel in order to have a more coordinated and efficient structure to improve learning conditions for students and staff.
The aim of the Learning Support team is to optimise the teaching and learning process in order to enable pupils with learning difficulties to achieve adequate levels of literacy and numeracy, develop positive self-esteem and attitudes to school and learning, enhance educational opportunities of all students , ensure the successful inclusion of students with individual special needs, develop a partnership with parents/carers so that their knowledge, views and experiences can assist us in assessing and providing for their children and to assist classroom teachers to differentiate programs, and ensure strategies and activities are utilised to ensure an inclusive approach towards learning.
Programs And Supports Offered
Interventions are delivered in a manner that best meets the needs of a class or student. These interventions include collaborations between support and classroom teachers, support in class setting, pull out small group support, or individual one to one teaching. Students are supported within a range of literacy and numeracy programs:
Pre-Lit is a systematic skills-based early literacy preparation program for our Kindergarten students. Pre-literacy skills and concepts are presented in an explicit, systematic and hierarchical sequence to provide the framework necessary for children to progress at their own pace and developmental level. Kindergarten students begin developing the necessary skills to become skilled readers; phonics, phonological awareness, vocabulary, comprehension and fluency.
Mini-Lit is an early intervention reading program which assists our younger students who find reading difficult. Students are catered for within a small group as they attend four sessions per week. Mini Lit incorporates the key elements of early reading programs; phonemic awareness, phonics, vocabulary, fluency and comprehension. Within their sessions, students engage in 'Sounds and Words Activities', text readers as students utilise their newly acquired phonological skills and shared book reading session.
Multi-Lit is an intensive, systematic reading program whereby students focus on sight word knowledge, phonemic awareness and supported reading. Students receive three sessions per week, at forty minutes per session.
LIEN and LIN is an intensive, inclusive Numeracy program whereby students focus on developing sound knowledge and strategies in four domains; counting, place value, addition and subtraction, and multiplication and division.
Behaviour & Social Skill Support
Behaviour & Social Skill Support is offered to those students who require extra support and learning appropriate behaviour. These students must be referred by mainstream teachers. Their level of support is dependent on the needs they present. This may include personalised behaviour charts, Individual Behaviour Management
Plans, behaviour contracts, social skill programs, social stories and anger management programs.
An Individual Plan (IP) is both a process and a product. It is a teaching tool used to deliver appropriate programs and strategies for those students with specific learning needs. It is a commitment of services and resources the school and the parents agree to provide for students.
Team Teaching may take many forms within the mainstream classroom. It caters for all student abilities using in class support. Team teaching is offered to all mainstream classes within the school, dependent on screening assessment results.
Collaboration is crucial to have clear communication and to build a strong team. Learning Support collaborates with teachers regularly to provide a variety of academic, behavioural and differentiated strategies to implement for all students.
Parents are extremely valuable to the learning support team and Al Amanah College. Parents, the learning support team and classroom teachers work together to help students reach their full potential. As a team we aim to support and collaborate with parents to implement strategies to enhance learning at home and in the classroom. Please provide any information you may think will assist us in helping your child reach their full potential or contact us if you need strategies to implement at home.
Links To Ideas To Practice At Home